Wishes and Wags, LLC was founded in 2017. The Company offers Puppy School, private dog obedience and problem solving training. There are many benefits of private training. One of the primary benefits is that basic obedience foundation skills can be easily applied to manage real life problem behaviors in the dog's own environment.
There are a variety of training packages to choose from. Pet parents work with the trainer to design training plans around their individual needs and goals.  We offer courses for puppies and adult dogs in basic obedience and behavior modification.  We even offer a basics course designed for humans only! 
One of the primary reasons the owner and trainer founded the Company is to help puppies and dogs, especially rescue and shelter dogs, stay in their forever homes.  She believes in positive training techniques.  She also believes that programs should not only teach training techniques but should also teach behavior management techniques.  Management of behavior issues is a key component of behavior improvement and successful training.  This is especially true for complex behavior issues such as aggression and anxiety.
 In the COVID 19 environment, training services are primarily offered in a live virtual environment.  In-person sessions have resumed on a limited basis and are typically offered in combination with live virtual sessions within certain packages.  Regardless of the training format, we strive to make the training experience fun and effective for all!
In addition to obedience training, pet sitting services are available.
Please contact us for more information!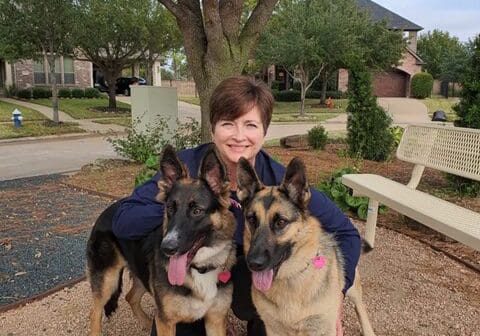 First let me say - I LOVE MY JOB! I started my life on a ranch. Animals of all shapes and sizes were an important part of my life. I spent many years in Corporate America. In 2017, I made the decision to change careers and work with animals full time. In 2018, I obtained my first dog obedience training certification - ABCDT. In, 2019, I obtained my second certification - CPDT-KA. I have designed the training program to take the basic obedience foundation skills taught in our program and help pet parents apply them to problems experienced in their day to day lives. One of the reasons I founded Wishes and Wags was to find ways to help families develop strong bonds with their pets and manage behaviors such as jumping, excessive barking, leash pulling, nipping, anxiety, and some types of aggression - such as fear aggression. Sadly, these behaviors are some of the primary reasons pets are abandoned or surrendered to shelters and rescues. Helping shelter and rescue dogs stay in their forever homes is my passion. This passion is shows up in some of the programs I offer.
Education is so important to me. I am a member of the Association of Professional Dog Trainers and the International Association of Animal Behavior Consultants. I am always searching for new techniques to use in my training program as well as new information to pass along to my clients. In addition to continuously finding ways to increase my training knowledge, I also love helping humans become new trainers!  I am currently mentoring students working toward their ABCDT certification.
If you are wondering where our name comes from - In 2011, my mother suffered a stroke. Her journey impacted my decision to found Wishes and Wags (as well as the name). Over the years, she told me many times how much she wished for a pet. Due to my long work hours, I was unable to grant my mother's wish. Many times, an assisted living resident is required to have the physical ability to care for a pet without assistance from staff. She was not able to care for a pet on her own. I hope I will have an opportunity to help a family member grant their loved one's wish by providing assistance when possible - whether through obedience training or pet sitting.
Why Engage Wishes and Wags?